Diane Carey is an author of Star Trek novels and stories who was active in writing Star Trek literature from 1986 to 2001.
History and specifics
Diane Carey's Star Trek novels began with Dreadnought! in 1986. The story became very popular and was immediately followed by a sequel, Battlestations!. Shortly after, the Paramount Pictures licensing rules became more strict, meaning that books like these with casts of original characters not derived from canon productions were no longer allowed in the numbered Pocket TOS series. These first two books were popular enough to be reprinted and re-branded under a subseries name, Fortunes of War.
Carey's next major Star Trek publication was Final Frontier, the third and final unnumbered book to be branded as a Star Trek Giant Novel. This story followed the lead of her earlier books by again taking focus away from the TOS cast, in a flashback story with George Kirk meeting Sarah and Robert April. The story was followed up by a hardcover sequel with those characters, Best Destiny, a coming-of-age story with a young James T. Kirk.
Diane Carey also wrote the first original Star Trek: The Next Generation novel, Ghost Ship. Researched and written before the bulk of the show's first season, the story contains some premises that are unique to the early development of TNG.
This article is a stub relating to an author, illustrator or other publishing production information. You can help our database by expanding on it.
Star Trek creations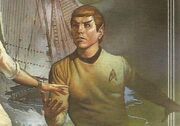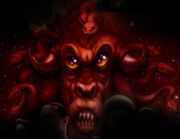 Characters
Fortunes of War characters

New Earth/Challenger characters

Zoa

Zane Bonifay

Other characters:

Billy Maidenshore

•

Evan Pardonnet

• Riutta •

Braxan

Other character creations

T'Cael Zaniidor Kilyle • Eric Stiles • Zevon •

Orsova
Races and cultures
the Formless

• Pojjana • the Blood •

Kauld

• Palkeo Est • Rassua •

the Living

• the Furies
Star Trek bibliography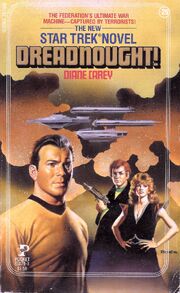 Fortunes of War, Book 1: Dreadnought! (TOS novel, 1986)
Fortunes of War, Book 2: Battlestations! (TOS novel, 1986)
Final Frontier (TOS novel, 1988)
Ghost Ship (TNG novel, 1988)
Best Destiny (TOS novel, 1992)
The Great Starship Race (TOS novel, 1993)
Descent (TNG novelization, 1993)
The Search (DS9 novelization, 1994)
First Frontier (TOS novel, with Dr.

James I. Kirkland

, 1995)
The Way of the Warrior (DS9 novelization, 1995)
Station Rage (DS9 novel, 1995)
Invasion! Book 1: First Strike (TOS novel, 1996)
Cadet Kirk (TOS Young Adult Novel, 1996)
Trials and Tribble-ations (DS9 novelization, 1996)
Starfleet Academy (TOS novelization, 1997)
Day of Honor, Book 1: Ancient Blood (TNG novel, 1997)
Ship of the Line (TNG novel, 1997)
The Captain's Table, Book 4: Fire Ship (VOY novel, 1998)
The Dominion War, Book 2: Call to Arms... (DS9 novelization, 1998)
The Dominion War, Book 4: ...Sacrifice of Angels (DS9 novelization, 1998)
What You Leave Behind (DS9 novelization, 1999)
Double Helix, Book 3: Red Sector (TNG novel, 1999)
Equinox (VOY novelization, 1999)
New Earth, Book 1: Wagon Train to the Stars (TOS novel, 2000)
New Earth, Book 2: Belle Terre (TOS novel, with Dean Wesley Smith, 2000)
"The Veil at Valcour" (short story from Enterprise Logs, 2000)
"World of Strangers" (short story from Enterprise Logs, 2000)
New Earth, Book 6: Challenger (TOS novel, 2000)
Gateways, Book 2: Chainmail (Star Trek: Challenger novel, 2001)
Broken Bow (ENT novelization, 2001)
"Exodus" (Star Trek: Challenger short story from Gateways, Book 7: What Lay Beyond)
Appendices
External link