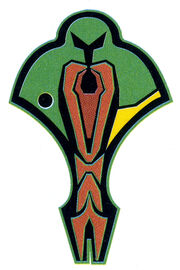 Dralnok was a planet within the Cardassian Union, later taken by the Klingon Empire. A previously unknown chemical substance, designated by the Klingons as Element 604, was discovered on Dralnok. Dralnok was apparently returned to Cardassian control by the end of the Dominion War. (TNG novel: Diplomatic Implausibility)
It is unclear whether the war in which the Klingons took Dralnok was the Klingon invasion of Cardassia in 2372, or the later Dominion War.
Connections
Edit
Community content is available under
CC-BY-SA
unless otherwise noted.