For other uses, see Dreadnought.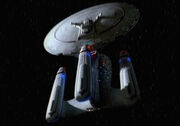 The term dreadnought is a starship classification that is applied to describe a type of starship that is usually built solely for combat, with the best weapons and the strongest defenses. Starfleet's first dreadnoughts, the Federation-class, were developed in the 2250s and 2260s in response to the growing Klingon threat. The Klingons themselves developed many dreadnoughts in response. (ST reference: Star Fleet Technical Manual; TOS novel: The Klingon Gambit; TOS - Fortunes of War novel: Dreadnought!)
History
During raids by multiple parties on a Borg Collective unimatrix for reassimilation, three dreadnoughts engaged one another: a Borg octahedron controlled by the Borg Queen, a Voth Citadel-class dreadnought deployed from the Voth Fortress Ship, and an Undine Tethys-class bio-dreadnought. The Borg Cooperative, leading an Alpha Quadrant Alliance task force from Seven of Nine's sphere, recognised this as their chance to target and destroy all three dreadnoughts within minutes. (STO - Delta Rising mission: "Borg Disconnected")
Dreadnoughts
Variations
In the 25th century, members of the Alpha Quadrant Alliance distinguished between subtypes of their dreadnought classes. These subtypes were based on specialisation and included: dreadnought battlecruiser, dreadnought carrier, dreadnought cruiser, dreadnought warbird and science dreadnought. (STO - Klingon War mission: "Welcome to Earth Spacedock")
Connections
Community content is available under
CC-BY-SA
unless otherwise noted.