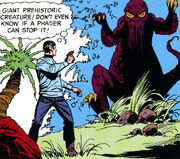 Dukar was a class M planet charted by the USS Enterprise in the 2260s. Lieutenant Commander Spock beamed down alone to perform the survey of the planet and was attacked by a huge dinosaur. Due to interference in the planet's atmosphere, Spock could not beam back to the Enterprise and was forced to fight the creature, and he killed it with his phaser.
During this incident, Queen Lok of the planet Neesan received an empathic impression of Spock's encounter with the dinosaur and believed it to be the image of the god, Unruho. (TOS comic: "The Cosmic Cavemen")
Community content is available under
CC-BY-SA
unless otherwise noted.