This character is a member of the La Forge family.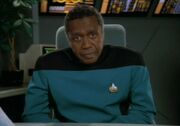 Commander Edward M. La Forge was a Starfleet scientist, specializing in xenology and exobiology. He was married to fellow Starfleet officer Captain Silva La Forge, with whom he had two children, Geordi and Ariana. (TNG episode: "The Next Phase")
Biography
Edit
In 2370, Commander La Forge was widowed when his wife's ship, the USS Hera, was lost. (TNG episode: "Interface")
Following his wife's loss, La Forge took a year's leave from Starfleet on Earth. He returned to active duty in 2371, accepting the position as head of the xenobiology department aboard the USS Zee-Magnees. (TNG - Slings and Arrows eBook: The Insolence of Office)
By 2381, La Forge had transferred to the Luna-class USS Amalthea. During the Borg Invasion of 2381, he and his ship were 300 light-years beyond Federation territory. (TNG novel: Losing the Peace)
External links
Edit
Community content is available under
CC-BY-SA
unless otherwise noted.