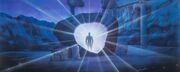 The Ellison Research Outpost was a Federation research outpost on "The Rock of Ages", the planet that housed the Guardian of Forever. It was installed there to study the timeline. (ST novel: Federation)
This outpost would seem to be named after Harlan Ellison, the writer of the TOS episode: "The City on the Edge of Forever", where the Guardian of Forever was introduced.
The earliest scientific encampment on planet Gateway was established in the later half of the 2260s decade, after the USS Enterprise's first visits to this world. The scientists lived and worked in temporary lodgings near the location of the time portal. This expedition was massacred by Romulans who sought the Guardian's secrets in 2269, along with Enterprise landing party personnel defending the portal. The Romulans were stopped thanks to the efforts of Zar, Spock's son who had been born in Sarpeidon's ancient history. (TOS - The Yesterday Saga novels: Yesterday's Son, Time For Yesterday)
An historical institute run by Vassily was located 15 kilometers from the Guardian. Groundcars were used to travel to and from the artifact. In 2269, historians Loom Aleek-Om, Ted Erickson, and Meijan Grey visited the facility along with James T. Kirk, Leonard McCoy, and Spock. (TAS - Log One novelization: Yesteryear)
Starfleet maintained a patrol around the system, and scientists were moved into the more permanent Ellison facility. The outpost's personnel controlled access to the Guardian, out of concern for the possibility of time being corrupted. (ST novels: Federation, The Ashes of Eden, The Return)
Captain James T. Kirk visited the Ellison Research Outpost in 2293, shortly before the commissioning ceremony for the USS Enterprise-B. (ST novel: Federation)
Manned research and defense of the time portal continued into the 24th and 25th centuries. Occasional use of the Guardian to research or influence time has resulted in alternate timeline versions of this outpost. (TNG novel: Imzadi; STO video game: Star Trek Online)
Community content is available under
CC-BY-SA
unless otherwise noted.