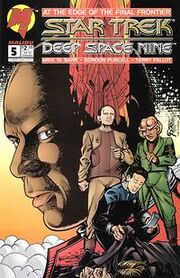 "Emancipation, Part II" was a Deep Space Nine comic, the 5th issue of the Malibu Comics series of DS9, published in December 1993, the second part of the duology Emancipation story arc following previous issue "Emancipation". The issue was followed by an anthology issue in Malibu DS9, Issue 6. This issue was collected by Boxtree in the 96 page omnibus Emancipation and Beyond (ISBN 0752209337) in July 1994.
This article is a stub relating to a comic book series, collection, issue, author, illustrator or other publishing production information. You can help our database by expanding on it.
References
Edit
Characters
Edit
Locations
Edit
Station locales
Edit
Races and cultures
Edit
Changeling • Ferengi • Human
States and organizations
Edit
Science and classification
Edit
lifeform • medicine • time • space • star • star system • technology • universe • weapon
Technology and weapons
Edit
Lifeforms
Edit
Rank and titles
Edit
Other references
Edit
boot • clothing • death • government • jacket • jumpsuit • nation-state • pants • races and cultures • rank • science • Starfleet uniform • Starfleet uniform (2366-2373) • title • tunic • uniform • vest
Appendices
Edit
External link
Edit
Community content is available under
CC-BY-SA
unless otherwise noted.