Eminiar is a star[2] with an associated star system[3], located somewhere in the galaxy's Alpha or Beta Quadrants, in Federation space, at coordinates 2.15S 5.77E[1], in Quadrant 2[4].
History and specifics
Eminiar is part of the NGC 321 star cluster[3] visible from Earth in the constellation of Cetus. The Eminiar system's orbit was the location of 11 planets[2], including third planet Vendikar and seventh planet Eminiar VII, homeworld of the Eminian civilization[3].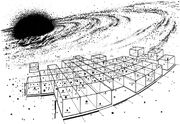 On star charts of the explored galaxy, this system could be seen to be in the general vicinity of Talos, Beta Aurigae and Alfa 177. (TNG episode: "Conspiracy", TNG reference: The Continuing Mission)
Eminiar's star, located at coordinates -37.0, 222.3, 25.1, was a large yellow star with 11 planets total. (ST reference: The Worlds of the Federation)
Another star chart showed this system in the vicinity of Tsugh Khaidnn, Theta Mees, Denkir system and Memory Delta. (TNG episodes: "The Wounded", "Yesterday's Enterprise", TNG reference: The Continuing Mission)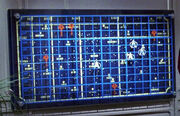 In the 2360s decade, this location was noted on a star chart showing deployment of Federation and Cardassian Union ships displayed in Captain Benjamin Maxwell's ready room aboard the starship USS Phoenix. (TNG episode: "The Wounded")
Alternate realities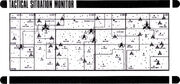 On a 24th century viewscreen display of a tactical situation monitor in an alternate timeline where the Klingon Empire was at war with the United Federation of Planets in the year 2366, Eminiar was listed on a star chart showing Klingon allied forces in relation to Federation positions. (TNG episode: "Yesterday's Enterprise", TNG reference: The Continuing Mission)
System makeup
Eminiar I
Eminiar II
Vendikar (Eminiar III)
Eminiar V
Eminiar VI
Eminiar IX
Appendices
Connections
Background
The Eminiar system was not mentioned in canon after TOS, but as a homage was listed on the "Conspiracy" explored galaxy map and the "Yesterday's Enterprise" alternate timeline tactical situation monitor showing progress of the Klingon war with the Federation, and a later re-use of this chart in "The Wounded".
In TNG video game: Birth of the Federation, the orbital configuration of the game map star systems was randomly generated each time a new game started. In particular, this was listed only as the "Vendikar system".
References and notes
External link