Eminiar VII was a planet in the NGC 321 star cluster. The seventh planet of the star system it was located in, the planet was home to the Eminian people.
The planet achieved spaceflight by what was the 19th century on Earth. During that time, the planet had become embroiled in a conflict with Eminian colonists who had settled on the planet Vendikar - the third planet of their star system. Eventually the two societies developed computers that fought their war for them, with casualties ordered to commit suicide by stepping into a disintegration machine and being vaporized. For the next five hundred years the two cultures fought this computerized war, killing about three million of their citizens a year. (TOS episode: "A Taste of Armageddon", TOS novel: The Rift, TOS comic: "Let's Kill All the Lawyers")
The Federation sent the USS Valiant to the area, which made initial contact with Eminiar VII in the early 23rd century. After making a report to Starfleet, the ship disappeared, a victim of the conflict between Eminiar and Vendikar.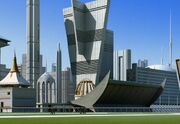 The Federation later sent Ambassador Robert Fox to negotiate a treaty port with the Eminians in 2267. The ongoing conflict between Eminiar and Vendikar endangered the USS Enterprise crew. After the initial crisis was averted, Ambassador Fox stayed on Eminiar VII to negotiate what was intended to be a lasting peace. However, several years later (circa 2271), the tenuous peace collapsed, with a round of nuclear exchanges between the two worlds resulting in approximately one-third of Eminiar VII being rendered sterile and uninhabitable, and virtually all of Vendikar obliterated. (TOS episode: "A Taste of Armageddon", TOS novel: The Rift, TOS comic: "Let's Kill All the Lawyers")
By the 24th century, Eminiar VII evidently received some form of planetary rejuvenation assistance in the conflict's aftermath, with the world being quite highly regarded for its scenic beauty, and becoming a destination for tourists. Several images of the planet's surface were displayed on Deep Space 9's Promenade. (DS9 episodes: "The Muse", "What You Leave Behind")
Community content is available under
CC-BY-SA
unless otherwise noted.