"Empok Nor" was the 122nd episode of Star Trek: Deep Space Nine, the 24th episode of the show's fifth season, first aired during the week of 19 May 1997. The episode was written by Bryan Fuller and Hans Beimler and directed by Mike Vejar.
To obtain much needed technology, Miles O'Brien leads an engineer team to a sister station of Deep Space 9, where Garak is infected with a psychotropic drug.
References
Edit
Characters
Edit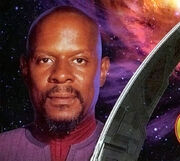 Amaro • Julian Bashir • Boq'ta • Broik • Jadzia Dax • Elim Garak • Jerax • Kira Nerys • Morn • M'Pella • Nog • Miles O'Brien • Odo • Pechetti • Quark • Benjamin Sisko • Stolzoff • Worf, son of Mogh • Deep Space 9 personnel (Deep Space 9 residents)
Referenced only 
Locations
Edit
Referenced only 
Starships and vehicles
Edit
Danube-class runabout • USS Defiant (Defiant-class escort, in opening credits) • Janitza-class (in opening credits) • USS Leeds (Nebula-class explorer, in opening credits)
Race and cultures
Edit
Bajoran • Bolian • Cardassian • Changeling • Ferengi • Human • Klingon • Trill
States and organizations
Edit
Referenced only 
Other references
Edit
cadet • "Cardie" • coffee • covariant pulse • dampening field • docking clamp • environmental suit • field coil • holosuite • hyper spanner • internal sensor • kotra • life support • microfusion reactor • optronic coupler • pattern scrambler • phase decompiler • phaser • phaser rifle • psychotropic drug • root beer • SOS • Starfleet uniform • Starfleet uniform (2373-2386) • stasis • subspace transceiver • telegraph • Til'amin froth • tricorder • waste extraction • xenophobia
Appendices
Edit
Related media
Edit
ST reference: Encyclopedia

Information about this episode is presented consistently in the third and fourth volumes.
Video releases
Edit
Background
Edit
Notable cast and crew
Edit
Episode images
Edit
Adaptation images
Edit
Connections
Edit
External links
Edit
Community content is available under
CC-BY-SA
unless otherwise noted.