The Enarans were a telepathic humanoid species from the Delta Quadrant.
They had the ability to share experiences telepathically. Some members of the species had an affinity for playing music. The native instrument required the player to use their telepathic abilities to manipulate the harmonics from a half sphere attached to a lute-like shape. (VOY episode: "Remember")
Throughout the episode in which the Enarans were featured, B'Elanna started having powerful dreams that depicted the life of a woman and her lover in a time of great political and social upheaval. This woman appeared to exist in the past, a time where the Enarans condemned a slight offshoot of their species, the Regressives, to death. When B'Elanna learned of this she confronted the entire delegation of Enarans, who denied her claims. (VOY episode: "Remember")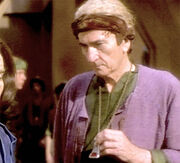 Community content is available under
CC-BY-SA
unless otherwise noted.