Errand of Vengeance was a miniseries of three novels, written by Kevin Ryan, and set during the first season of Star Trek: The Original Series between the episodes "What Are Little Girls Made Of?" and "Dagger of the Mind". All three volumes were published in 2002.
In 2005, Seeds of Rage, the first book in the Errand of Fury trilogy was published as a sequel to this trilogy.
Novels
Lt. Jon Anderson is the newest security officer aboard the U.S.S Enterprise. He joins the crew at a time of mounting tension between the Federation and the Klingon Empire. Previous battles have been inconclusive, but Starfleet Command fears that the Klingons are gearing up for a major offensive. The Enterprise would be on the front lines of an all-out interstellar war.
But Lieutenant Anderson has a secret: he is actually a Klingon infiltrator assigned to sabotage Starfleet from within. His first mission: kill Captain James T. Kirk.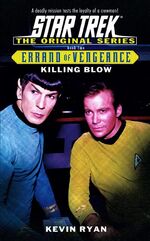 The USS Enterprise is patrolling the Klingon border when sensors detect a massive power source on a planet supposedly populated only by a race of primitive humanoids. Suspecting some sort of Klingon plot, Captain Kirk decides to investigate the matter personally, beaming down to the planet with Dr. McCoy and a team of security officers.
But Kirk is in more danger than he knows. Among the landing party is Lt. Jon Anderson, a Klingon infiltrator on an undercover mission aboard the Enterprise. Anderson does not know if the Empire is at work on the unnamed planet, but if it is, then his duty demands that Kirk be stopped - by all means necessary.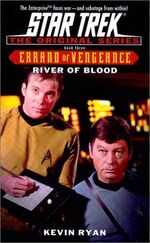 The news from Starfleet Command is grim: a full-scale war against the Klingon Empire is coming, a war that the Federation may not be able to win. In anticipation of a monumental conflict, the U.S.S. Enterprise is assigned to guard a vital starbase located perilously close to Klingon space.
But even Kirk's mission brings him into a tense confrontation with an invading Klingon battle cruiser, an equally deadly menace lurks within the ranks of his own crew: Klingon infiltrator agents, posing as Starfleet officers and sworn to destroy the enemies of the Empire - even at the cost of their own honor!