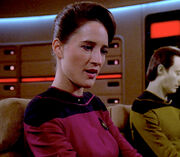 Esmeralda "Ella" Clancy was a female human in Starfleet in the 24th century.
Biography
As of early 2365, she held the rank of ensign, and served as engineering section gamma shift supervisor aboard the USS Enterprise-D. Circa stardate 42737, she was transferred to the position of beta shift conn officer. In mid-2366, Clancy was promoted to lieutenant, junior grade. (SCE eBook: Many Splendors)
Ensign Clancy appeared in TNG episodes: "Elementary, Dear Data", "The Emissary". Her nickname "Ella" was established in SCE eBook: War Stories, Book 1, while her formal name "Esmeralda" was established in Many Splendors.
Appendices
Connections
External link