For other uses, see Europa.
The Europa class was a 25th century Federation starship class, a heavy battlecruiser and variant subclass of the 23rd century Nimitz-class battlecruiser, in Starfleet service from the 2410s decade. The class was conceived when the Advanced Starship Design Bureau (ASDB) recovered the 150-year abandoned Yard 39 and its Nimitz-class technology. (STO website: The Stats of the Europa Class!)
Service history and specifications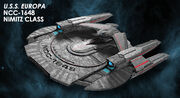 The Nimitz-class USS Europa served as flagship of Admiral Brett Anderson in the 2250s decade. On stardate 1207.3, May 11 2256,[1] Admiral Anderson took the Europa into the fateful Battle of the Binary Stars, where the ship was tragically lost while trying to save the crippled USS Shenzhou. (DSC episode: "Battle at the Binary Stars")
150 years later, in 2410, Ensign Elyos and Lieutenant Whetu of the Utopia Planitia Fleet Yards discussed the recovery of Yard 39 and several hulks of Starfleet ships hastily abandoned there when the star TL-9139 erupted and flooded its system with baryon radiation in 2259. This included the second USS Europa, another Nimitz-class starship. With the radiation suddenly diminishing, Starfleet was able to recover Yard 39 and its assets. (STO - Age of Discovery short story: "Utopia Planetia: The Mystery of Yard 39")
The Europa-class, named in honor of Anderson's ship and based on the recovered Nimitz hulks, was the brainchild of Vice Admiral S.J. Hemphill, commanding officer of the ASDB.
The ASDB engineers studied the Nimitz class and focused on its SIF linkage system. It was adapted for the development of a 25th century iteration of the Nimitz. The overall design of the new ship was inspired by the 25th century Reliant-class frigate, but on a larger scale. (STO Issue 09: "USS Europa")
Hemphill spearheaded the ASDB project to develop the new starship class based on the Nimitz-class. On stardate 87751.8, the Utopia Planitia Starfleet Yard hosted the commissioning ceremony of the USS Europa (NCC-97640), first of its class. (STO - Age of Discovery short story: "The Past Reborn")
Upon launch, the Europa was made flagship of Tactical Squadron 547. This tactical squadron was assigned to interdict rogue Klingon pirates in the Khitomer sector. Only a small number of Europa ships were planned. Another one was the USS Phobos (NCC-97643), which joined the Starfleet rapid reaction task force 13-47. (STO Issue 09: "USS Europa")
Livery
In the 25th century, the design of the Europa-class heavy battlecruiser allowed its commanding officer to choose from different designs of hull materials, which could be modified further at shipyards. (STO - The Klingon War mission: "Welcome to Earth Spacedock")
Furthermore, the installation of deflector shields from specific factions modified the hull appearance, including shields from the Reman Resistance, the Breen Confederacy and the Dominion. (STO missions: "Coliseum", "Cold Storage", "Boldly They Rode")
Known vessels
Appendices
Connections
References
External links