The Federation Headquarters was a 31st and 32nd century Federation space station, a spacedock in Starfleet service from the Burn in the 3060s to the 3180s decade. (DSC episode: "Die Trying")
Federation HQ was located in the galaxy's Alpha Quadrant. It was also equipped with a warp drive. (DSC episodes: "Scavengers", "Coming Home")
History and specifications
Around the year 3069,[1] the Burn was a galaxy-wide cataclysmic event that caused the detonation of starships and other spaceborne facilities,[2] instantly immolating the majority of Starfleet's assets and personnel.[1] Long-range communications and intel gathering subsequently became extremely restricted. (DSC episodes: "That Hope Is You, Part 1", "People of Earth", "Die Trying")
Until then, Federation Headquarters and Starfleet Headquarters had both resided on Earth. In the late 31st century, both HQs relocated from Earth for parts unknown. (DSC episode: "People of Earth")
The Federation civilian government and Starfleet Command settled on the Federation Headquarters station in deep space. An artificial distortion field effectively cloaked the facility. Generated by the station itself, its power came from surviving Starfleet ships docked to the station via cords.
The station appeared like a starship-sized, almond-shaped construct with an outer lattice and solar panel-like external energy collectors. The command center was located at the very top and included windows. Its centerpiece was a holographic map of the Milky Way Galaxy.
In 3189, the temporally displaced 23rd century Starfleet science vessel USS Discovery announced its return to duty and travelled to the station, where Fleet Admiral Charles Vance and his security chief Lieutenant Audrey Willa met Captain Saru, first officer Commander Michael Burnham, and United Earth Defense Force inspector Adira Tal, the latest host of the Tal symbiont. Senna Tal had been a flag officer personally known to Vance. (DSC episode: "Die Trying")
Soon after, Saru was invited to join the briefing between Admiral Vance and Starfleet's remaining captains. Vance revealed the existence and strategic value of the spore drive installed on Discovery to Rahma, Bandra and other captains present. (DSC episode: "Scavengers")
---
Spoiler warning:
Plot and/or ending details follow: The following content contains spoilers!
---
Following the collapse of the Emerald Chain[3], the station deactivated the distortion field. By 3190, additional structures included Archer Spacedock and a Starfleet Academy campus. (DSC episodes: "Kobayashi Maru", "All Is Possible")
During the DMA Crisis, Federation HQ was able to use it's warp drive to assist in evacuating Earth and Titan. Federation HQ was able to fill all it's decks to capacity. Admiral Vance and Lieutenant Sylvia Tilly stayed behind at Federation HQ to reinforce Earth's shields from the DMA's debris. After sending HQ's remaining DOTs to reinforce Earth's shield, the DMA was deactivated. Federation HQ stayed in orbit as Earth and it's president rejoined the Federation. (DSC episode: "Coming Home")
Personnel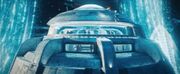 Assigned starships
Appendices
Connections
References
External link