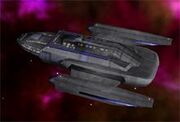 The Federation colony ship was a type of warp drive-capable starships utilized by the Federation Starfleet to establish footholds on new colony worlds. Colony ships carry more than enough equipment and colonists to set up a fledgling colony on a new planet.
Colony vessels used a series of pods to transfer this equipment to the surface. Some types of colony ships can only be used once, as once colonization is complete, the colony ship itself will land on the planet to be dismantled and the materials used to construct the new colony's initial buildings. (ST video game: Armada II)
Ships and classes
Edit
Connections
Edit
Community content is available under
CC-BY-SA
unless otherwise noted.