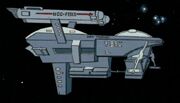 A Federation freighter was a class of freighter that was in Federation service in the 23rd century.
Ships of this type were often charged with carrying various materials and personnel throughout the Federation. In 2269, the USS Huron (NCC-F1913) was charged with carrying vital medicine to the USS Enterprise (NCC-1701) when it was attacked by pirates. (TAS episode: "The Pirates of Orion")
Community content is available under
CC-BY-SA
unless otherwise noted.