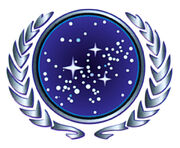 As of December 2380, there were 154 member states of the United Federation of Planets, and Federation space spanned over 10,000 light-years. (ST novel: Articles of the Federation)
See also Federation colonies.
Founding member states
Edit
The United Federation of Planets was founded in 2161 by the governments of United Earth, the Confederacy of Vulcan, the Andorian Empire, the United Planets of Tellar, and the Alpha Centauri Concordium, all of which were previously members of the Coalition of Planets. (TNG episode: "The Outcast"; ENT episode: "Zero Hour"; ST novel: Articles of the Federation; ENT novel: Kobayashi Maru; ST reference: Star Fleet Technical Manual)
The novel Starfleet: Year One, published before Enterprise canonically confirmed the founding members of the Federation, gave eight founding worlds; Earth, Vulcan, Andor and Tellar remained, Alpha Centauri was omitted and Osadj, Dedderai, Vobilin and, last to agree to join, Rigel IV, were added. While these extra worlds could still be early members of the Federation, the majority of sources, and canon, now rule them out as founding members.
Similarly, the reference book Spaceflight Chronology lists Rigel as a founding member in addition to the five listed above. In addition, in that source Alpha Centauri is a system with an indigenous (though closely related to Human) population, not an Earth colony.
Community content is available under
CC-BY-SA
unless otherwise noted.