For other uses, see Fek'lhr.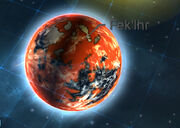 In the Kelvin timeline, Fek'lhr was a planet, a terrestrial world located in the Khitomer system, in the Khitomer sector[1] of the galaxy's Beta Quadrant. (ST video game: Fleet Command)
History
[
]
By 2262, Khitomer was a major location within the Empire. The system was patrolled by the Klingon Defense Force but open to Klingon traders and Independents from the Neutral Zone. A Klingon space station, Nu'Daq Station, was in place in the planet's orbit. (ST video game: Fleet Command mission: "Excess")
Kras was stuck at the station when Mokgar sabotaged his ship's impulse engines. Kras hired an Independent to track the Klingon outlaw. The Independent ship found Mokgar at Fek'lhr, and the destruction of Mogkar's ship satisfied Kras. (ST video game: Fleet Command mission: "The Noose")
Appendices
[
]
Background
[
]
Named for the semi-mythological figure Fek'lhr.
The system's order of planets is ambiguous in Fleet Command.
References
[
]