Quark learns that his mother is Grand Nagus Zek's lover—and that she is helping him run the entire Ferengi Alliance.
Quark's bar has been closed for three days, while an infestation of voles are exterminated. Meanwhile, Rom and Leeta announce they are getting married. Rom suggests to Quark that all his problems, particularly with the FCA, could be helped by going home to see their mother.
This article or section is incomplete
This article is marked as lacking essential detail, and needs attention. Information regarding expansion requirements may be found on the article's talk page. Feel free to edit this page to assist with this expansion.
Julian Bashir • Brunt • Jadzia Dax • Ishka • Jones • Jorem • Kira Nerys • Leeta • Leck • Maihar'du • Morn • Miles O'Brien • Odo • Quark • Rom • Benjamin Sisko • Worf, son of Mogh • Zek • Deep Space 9 personnel (Deep Space 9 residents)
Referenced only 
Danube-class runabout • USS Defiant (Defiant-class escort) • Janitza-class (in opening credits) • USS Leeds (Nebula-class explorer, in opening credits)
Referenced only 
ancient text • arcybite • Bajoran earring • Bajoran prophecy • Bajoran wedding • business license • contract • Cupid • dabo • DaiMon • duranium • energy whip • Ferengi Rules of Acquisition • Ferengi Trade By-Laws • First Clerk • gouge mining • gree-worm • Grand Nagus • Gree-worm • Hupyrian beetle • jevonite • jumja stick • latinum • liquidator • lobe • lokar bean • Marauder Mo • moogie • PADD • phase calibrator • slug steak • Starfleet uniform • Starfleet uniform (2373-2386) • tongo • tribble • tricorder • tube grub • vole • Waiver of Property and Profit • Writ of Accountability
"Ferengi Love Songs" was the 118th episode of Star Trek: Deep Space Nine, the 20th episode of the show's fifth season, first aired during the week of 21 April 1997. The episode was written by Hans Beimler and Ira Steven Behr and directed by Rene Auberjonois.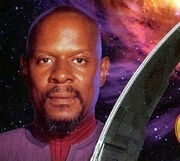 Community content is available under
CC-BY-SA
unless otherwise noted.