Ferris was a 23rd century Human man, an officer in Starfleet by the 2260s decade. He served in security on board the Federation starship USS Enterprise and was a capable pilot.
History
In the 2260s, Ferris joined Captain James T. Kirk, Commander Spock and Crewman Morton aboard shuttlecraft NCC-1701/3 to explore the surface of Planet 656 and look for signs of intelligent life. They landed next to a small building along a shoreline which was full of computers. When a very large dinosaur-like creature emerged from the water to threaten the landing party, Spock and Ferris quickly returned to the shuttle and used it to drive the animal away. Meanwhile, Kirk and Morton had fallen through a sinkhole. Ferris used a radio in the building to try to hail the Enterprise as Spock left with a rope to help Kirk and Morton, ordering Ferris to leave if Spock wasn't back in two minutes. After the deadline, Ferris obeyed orders and piloted the shuttle to the Enterprise, reporting to Montgomery Scott about the sinkhole. (TOS comic: "Ground Zero")
By the year 2269, Ferris held the rank of lieutenant.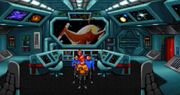 In 2269, Ferris accompanied a landing party with Kirk, Spock and Doctor Leonard McCoy to ARK-7 while it was occupied by Romulan forces under Ardea Preax. (TOS video game: 25th Anniversary)
Appendices
Connections
Background
For the purposes of this wiki, the Ferris in the comic and the Ferris in the game are assumed to be the same person in the absence of conflicting information.
In the 25th Anniversary game, Ferris has the role of a typical expendable redshirt and can die in that game's episode "Love's Labor Jeopardised" if the player makes a wrong choice. Ferris can be killed if the player tells him to descend the ladder, in which case he will be shot by Romulan disruptors.
Ferris is likely named after

Jason M. Ferris

, one of the designers and playtesters of the game.
In the CD-ROM version, he is voiced by

Steven Bulen

.
Appearances and references
Appearances and references