For other uses, see First Contact.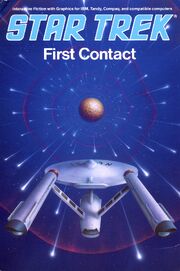 First Contact was a Star Trek video game, a Star Trek: The Original Series game released for IBM PCs as well as Apple Computers in 1988.
Description
Edit
"The Enterprise is Starfleet's most impressive limousine, Jim. She'll guarantee a royal reception for our bigwigs at that local coronation." You smile knowingly as you recall the instructions from Starfleet Command. The Enterprise will carry diplomats to Gothica to ensure that the Federation makes a good impression. But this part of her voyage is merely a first step.
Evidence of a new and unknown civilization has been found. The ultimate goal for your starship and crew is to avoid Klingon suspicion and make first contact. The Federation has chosen you, Captain James T. Kirk, to be the first to encounter and befriend the aliens.
The dual mission of the Enterprise has begun. "Sulu, set course for Gothica. Uhura, notify Starfleet of our departure. Spock, warp factor one." Apparently, all is well. But appearances can be deceiving.
This article is a stub relating to an author, illustrator or other publishing production information. You can help our database by expanding on it.
References
Edit
Characters
Edit
Starships and vehicles
Edit
Referenced only 
Locations
Edit
Races and cultures
Edit
States and organizations
Edit
Materials and substances
Edit
Technology and weapons
Edit
Ranks and titles
Edit
admiral • captain • commander • commanding officer • communications officer • diplomat • Federation Starfleet ranks • Federation Starfleet ranks (2270s-2350s) • fleet admiral • helmsman • first officer • lieutenant • navigator • officer • science officer • scientist • security • security chief • weapons officer
Other references
Edit
alien • boot • clothing • diplomacy • first contact • jacket • pants • races and cultures • rank • science • starbase • Starfleet uniform • Starfleet uniform (2278-2350s) • technology • title • uniform • weapon
Appendices
Edit
Connections
Edit
External link
Edit
Community content is available under
CC-BY-SA
unless otherwise noted.