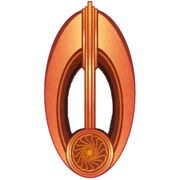 Flanner Posh was a Bajoran man and artist who born in 2350. His father died in one of the labour camps during the Occupation of Bajor and much of his work depicted individuals during the period.
In 2376, at least two of his sculptures were for sale in Rozahn Kather's shop in Adarak. (DS9 - Mission Gamma novel: Twilight)
Flanner later decided to move away from sculptures about the Occupation, but Kasidy Yates still found echoes in his work of a sporting figure that Kasidy thought could represent someone escaping the Gallitep labor camp or the Sharhite labor camp. (DS9 novel: Original Sin)
Community content is available under
CC-BY-SA
unless otherwise noted.