For other uses, see Florida.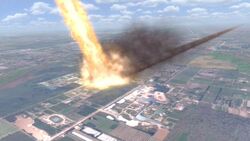 Florida is a region of the North American continent on the planet Earth, with boundaries that were created as the area was settled as a geopolitical subdivision of the United States of America nation.
History
Florida is the site of Cape Canaveral, which was the site of early space exploration.
Half the population of Florida was killed by a deadly alien microbe in 1983. The microbe was inadvertently brought back from Earth orbit by the NASA space shuttle Icarus. Starfleet singled out this catastrophic event to be prevented by a time travel mission in 2279. (TOS comic: "Getting Real")
Charles Tucker III was born in Panama City, Florida, in 2117. His younger sister, Elizabeth, was also born in Florida, and lived there into adulthood. (ENT episodes: "Fusion", "The Expanse"; ENT novel: Last Full Measure)
In 2153, a Xindi weapon attacked Earth, destroying large areas of Florida. Elizabeth Tucker was a casualty of this attack, as were family members of Selma Guitierrez. (ENT novel: Last Full Measure)
David Gold's granddaughter Emily lived in Florida as a young girl in the mid 24th century. (SCE eBook: Oaths)
Locations
Appendices
Connections
Background
A number of Star Trek authors reside in Florida:
External links