Publisher's description
Edit
From solicitations

Deep Space Nine teeters on the brink of anarchy as swarms of treasure-hunters and mercenaries continue to flood the station. Major Kira and Constable Odo are on the case, and the investigation leads to a not-unexpected destination: Quark's Bar!
This article or section is incomplete
This article is marked as lacking essential detail, and needs attention. Information regarding expansion requirements may be found on the article's talk page. Feel free to edit this page to assist with this expansion.
References
Edit
Characters
Edit
Julian Bashir • Jadzia Dax • Dukat • Kira Nerys • Miles O'Brien • Odo • Quark • Rom • Benjamin Sisko • Jake Sisko
Locations
Edit
Starships and vehicles
Edit
Races and cultures
Edit
Bajoran • Cardassian • Changeling • Ferengi • Human • Tellarite • Trill
States and organizations
Edit
Other references
Edit
Appendices
Edit
Background
Edit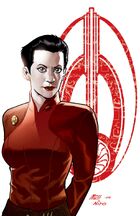 This issue was released in three covers: Two regular covers, by The Sharp Brothers and David Messina, and a third retail incentive cover, a virgin edition of the Messina cover.
Related stories
Edit
External link
Edit
Community content is available under
CC-BY-SA
unless otherwise noted.