From solicitations

With Deep Space Nine descending into chaos, Captain Sisko turns to an unexpected source for assistance -- but how can the Cardassian tailor Garak help? It all comes together in this final issue of IDW's debut Deep Space Nine mini-series!
This article or section is incomplete
This article is marked as lacking essential detail, and needs attention. Information regarding expansion requirements may be found on the article's talk page. Feel free to edit this page to assist with this expansion.
Julian Bashir • Jadzia Dax • Dukat • Elim Garak • Kira Nerys • Morn • Miles O'Brien • Odo • Portafoy • Quark • Quinn • Rakav • Benjamin Sisko
Bajor • Deep Space 9 • Promenade • Quark's
Bajoran • Cardassian • Changeling • Ferengi • Human • Lurian • Trill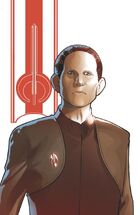 This issue was released in three covers: Two regular covers, by The Sharp Brothers and David Messina, and a third retail incentive cover, a virgin edition of the Messina cover.
Community content is available under
CC-BY-SA
unless otherwise noted.