Publisher's description
From solicitations

With Deep Space Nine descending into chaos, Captain Sisko turns to an unexpected source for assistance -- but how can the Cardassian tailor Garak help? It all comes together in this final issue of IDW's debut Deep Space Nine mini-series!
Summary
This article or section is incomplete
This article is marked as lacking essential detail, and needs attention. Information regarding expansion requirements may be found on the article's

talk page

. Feel free to edit this page to assist with this expansion.
References
Characters
Julian Bashir • Jadzia Dax • Dukat • Elim Garak • Kira Nerys • Morn • Miles O'Brien • Odo • Portafoy • Quark • Quinn •

Rakav

• Benjamin Sisko
Locations
Bajor • Deep Space 9 • Promenade • Quark's
Starships and vehicles
Races and cultures
Bajoran • Cardassian • Changeling • Ferengi • Human • Lurian • Trill
States and organizations
Other references
Appendices
Background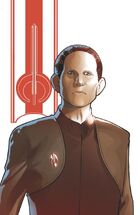 This issue was released in three covers: Two regular covers, by The Sharp Brothers and David Messina, and a third retail incentive cover, a virgin edition of the Messina cover.
Related stories
Timeline
Images
External link