"For the Uniform" was the 111th episode of Star Trek: Deep Space Nine, the thirteenth episode of the show's fifth season, first aired during the week of 3 February 1997. The episode was written by Peter Allan Fields and directed by Victor Lobl.
Benjamin Sisko pursues former Starfleet officer Michael Eddington across the Demilitarized Zone.
References
Edit
Characters
Edit
Referenced only 
Locations
Edit
Referenced only 

Cardassia • Dorvan • Gamma 7 outpost • Panora • Portas V • Salva II • Solosos III • Tracken II • Veloz Prime
Starships and vehicles
Edit
Danube-class runabout (in opening credits) • Guingouin (Condor-class) • USS Defiant (Defiant-class escort) • Groumall-class • Janitza-class (in opening credits) • USS Leeds (Nebula-class explorer, in opening credits) • USS Malinche (Excelsior-class explorer)
Races and cultures
Edit
Referenced only 

Bolian • Breen • Cardassian • Prophets
States and organizations
Edit
Referenced only 
Other references
Edit
barrel roll • baseball • biogenic weapon • cascade virus • cloaking device • cobalt diselenide • computer • court martial • Federation-Cardassian Treaty of 2370 • gyro-shielding • holo-communicator • Robin Hood • The Hunchback of Notre Dame • inertial damper • inspector • intelligence drone • Javert • Les Misérables • neutrino • nursery rhyme • parabolic sensor array • plasma field • punching bag • quantum torpedo • replicator • rhodium • selenium • shipyard • Starfleet uniform • Starfleet uniform (2373-2386) • stratospheric torpedo • transporter • trilithium • warp signature • work bee • Jean Valjean • warp drive
Appendices
Edit
Related media
Edit
ST reference: Encyclopedia

Information about this episode is presented consistently in the third and fourth volumes.
Video releases
Edit
Background
Edit
Notable cast and crew
Edit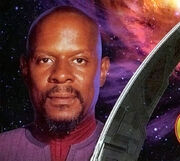 Connections
Edit
External links
Edit
Community content is available under
CC-BY-SA
unless otherwise noted.