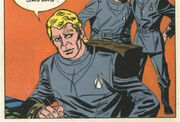 Frank Tanka was a Starfleet security crewman assigned to the Federation starship USS Enterprise in the 2260s and 2270s decades. (TOS audiobooks: The Man Who Trained Meteors, The Robot Masters, Dinosaur Planet)
In the early era of Star Trek comics and audio stories, Tanka was the only significant recurring character introduced for the Peter Pan series. The concept of characters unique to the comic series was not further expanded until the DC Comics series in the 1980s when a number of recurring characters were introduced.
Community content is available under
CC-BY-SA
unless otherwise noted.