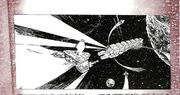 Freighters, or cargo ships, are designations given to starships and vehicles that are assigned to ferry goods, materials and substances from one location to another. (TNG video games: Armada, Armada II; et al.)
Freighters carry cargo inside their own hulls, in designated spaces called cargo holds or cargo bays. Larger vessels of these classifications are more likely to carry cargo in the form of bulk goods and sealed, standardized containers. In many designs, cargo containers can be docked externally to the main hull, to be undocked and exchanged at each port.
A tanker is specifically design to carry bulk matter in gas or liquid state.
Cargo ships sometimes have some capacity for carrying passengers, although the quality of accomodations can vary widely. Transports and starliners are more specifically designed to transport people.
Freighter classes
Appendices
External link