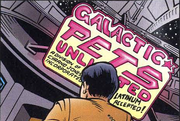 Galactic Pets Unlimited was an establishment on Deep Space 9's Promenade that sold animals, including birds, fish, targs and sterile tribbles. The interior of the shop was very noisy with all of the various animals for sale. It was a division of Cyrano Jones Incorporated. Latinum was an accepted method of payment for this establishment. This business would conduct sales including targs at half price and free combs with purchase.
In 2371, the store was used by Cardassian double agent Magret and his followers from the Circle as a secret base of operations on the station. (DS9 comic: "Images")
Benjamin Sisko mentioned that Magret and the Circle had been broken after being identified by Daranar Sueriel. The fate of the secret base hidden in Galactic Pets Unlimited was not revealed.
Connections