For other uses, see Galen.
The Galen class was a 24th century Federation starship type, a class of medical vessel in Starfleet service in the 2380s decade. Its prototype was the USS Galen, launched in 2381. (VOY novel: Unworthy)
The phrase "Galen class" is not used in any of the novels, but can be inferred as NX starships typically have the same name and class.
Service history and specifications
[
edit
|
edit source
]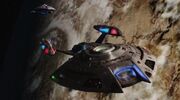 The Nova-class science vessel USS Equinox was one of the Federation ships that survived in the Delta Quadrant for several years in the 2370s. The Equinox found USS Voyager at the beginning of 2376. The Nova-class vessel was half the size of the Intrepid-class starship, and destroyed by vengeful nucleogenic lifeforms soon after. (VOY episode & novelization: Equinox)
The Galen entered service in 2381 and was assigned to the Project Full Circle fleet, a section of ships led by Voyager to explore the Delta Quadrant on behalf of the Federation. (VOY novel: Full Circle)
It was developed by Reginald Barclay and the Doctor, a sentient Emergency Medical Hologram.
The USS Galen appeared as a cross between a Nova- and a Miranda-class starship. The main section had six decks. It was constructed in a wide triangular shape and the nacelles were mounted on short pylons extending directly from the drive section. (VOY novel: Unworthy)
Like on the Nova-class, a Waverider shuttle was attached to the ventral saucer section. The saucer section and warp nacelle design matched the appearance of the 222 meter-long[2] Nova class. (VOY novel: To Lose the Earth, cover image)
The Galen was the second smallest ship in the group. Only the Theophrastus-class science vessel USS Demeter was smaller. (VOY novel: Children of the Storm)
In 2382, the crew of the Galen, including visiting officers Lieutenant Harry Kim and Nancy Conlon, established first contact and formal relations with the advanced Edrehmaia species. (VOY novel: To Lose the Earth)
Appearances and references
[
edit
|
edit source
]
Community content is available under
CC-BY-SA
unless otherwise noted.