For other uses, see Galileo.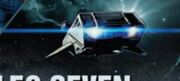 In the Kelvin timeline, the Galileo (NCC-1701/7) was a Federation shuttlecraft, a standard shuttle of the time in Starfleet service in the 23rd century.
In the Kelvin timeline, Galileo was assigned to the starship USS Enterprise in the year 2258. (TOS - The Galileo Seven comics: "Part 1", "Part 2")

The Galileo was used by James T. Kirk, Spock, and Hikaru Sulu to travel to Helios-1 to investigate a distress call. Later, a Gorn officer who had been brought aboard the Enterprise attempted to hijack the shuttle to escape back to his own ship. Following this being prevented, the shuttle crashed on a Gorn world but was repaired and recovered. It was used to transport an away team back to the ship to recover it following a Gorn invasion. It was remote piloted into the Enterprise bridge module in an effort to rescue Nyota Uhura. (TOS video game: Star Trek)
Community content is available under
CC-BY-SA
unless otherwise noted.