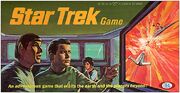 Star Trek gaming is the act of playing games based on Star Trek. These types of products, when licensed for sale by the owners of the Star Trek franchise, are part of Memory Beta's mandate to inclusively catalogue all sources of Star Trek information.
Gaming includes some major categories of publication, including video games, roleplaying games and collectible card games.
Other gaming
Edit
Board games
Edit
This article is a stub relating to an author, illustrator or other publishing production information. You can help our database by expanding on it.
Community content is available under
CC-BY-SA
unless otherwise noted.