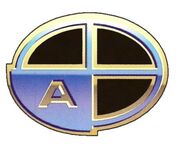 Gamma Aquarii (also known as Sadachbia or 48 Aquarii) is a star system, a binary star in the space of the galaxy's Alpha Quadrant.
History and specifics
This system was located 164 light years from Earth, visible in the constellation of Aquarius. This system was, by the late 24th century, a holding of the Klingon Empire and the system's orbit was the location of a planetary system, including the world Sadachbia. (ST video game: Starfleet Command III)
In gameplay, this name was part of a list that were applied to systems on the game map, with random attributes assigned to them.
System makeup
Gamma Aquarii primary star
Appendices
Connections
Alpha and Beta Quadrant stars and star systems (G)
Gakora • Galagos • Galar • Galina • Galiul • Gallonik • Gallos • Galon • Galox • Galway • Gamma 400 • Gamma 7A • Gamma Alpha • Gamma Amar • Gamma Argus • Gamma Arietis • Gamma Caius • Gamma Chrysalis • Gamma Delta • Gamma Demetrius • Gamma Emerata •

Gamma Hromi

• Gamma Kestra • Gamma Llongo • Gamma Meridien • Gamma Omicron • Gamma Tarses • Gamma Trianguli • Gamma Trixis • Gamma Vertis • Gamma Xaridian • Gamma Ysalis • Ganarra • Ganiel • Ganidra • Ganiez • Garis • Garlath • Garr • Garriat • Gaspar • Gasiox • Gazior • Gealan • Gekiax • Gelok • Gelrak • Gemet • Gemon • Genovese's Star • Gentariat • Geres • Geries • Gesium • Gesok • Geziul • Gezon • Ghandi • Ghar • Ghomba • Ghondr • Gila • Giriel • Gixiak • Gobi • Golgotha • Goliardh • Golumbin 699 • Gombara • Gonal • Gorak • Gorla • Gorsach • Gowok • Gradientes • Graf • Grenfil • Greshik Tyrr • Gribbin • Grisellan • Griswald 3489 • Guldammur • Gunarp
Alpha Quadrant stars and systems (G)
Galador • Gallina • Gamma Andromedae • Gamma Aquarii • Gamma Aurigae • Gamma Capricorni • Gamma Coronae Borealis • Gamma Cygni • Gamma Draconis • Gamma Lyrai • Gamma Ophiuchi • Gamma Persei • Geilod • Gemma • Gemulon • Gentara • Goralis • Gotanna • Great Pulsar • Grevven • Grovran • Gulvaria
Beta Quadrant stars and systems (G)
Gacrux • Gains • Galorndon Core • Galdonterre • Gamma Crateris • Gamma Crucis • Gamma Eridani • Gamma Eridon • Gamma Geminorum • Gamma Hydra • Gamma Leporis • Gamma Mensae • Gamma Orionis • Gamma Pavonis • Gamma Scorpii • Gamma Tucanae • Gamma Xertia • Gamma Zeta 4 • Ganalda • Garadius • Garag • Gasko • Gateway • Gideon • Glintara • Gomeisa • Goran • Gorath • Gorn • Gornar • Gotara • Gr'oth
References
External link