Gamma Canaris N is a planetoid in an asteroid belt within the Gamma Canaris region of the galaxy's Beta Quadrant. It was the home of Zephram Cochrane for 150 years.
Specifics
Gamma Canaris N supported an oxygen/nitrogen atmosphere with traces of neon and argon that produced a purple sky. The planet's core was primarily iron and nickel, resulting in gravity similar to 1 G, unusual for its small size. It may have formed from debris left after a planetary break-up. The world had a water supply and stable climate, supporting sparse plantlife including some trees.
The planetoid's climate was influenced by the The Companion, who maintained a 72° F surface temperature while generating an energy dampening field that disabled power systems. (TOS episode & Star Trek 7 novelization: Metamorphosis)
One large, ringed planetoid was visible nearby. (TOS comic: "A Warp in Space")
It was located in the general vicinity of Epsilon Canaris. (TOS episode & Star Trek 7 novelization: Metamorphosis)
The planetoid's name was first published in the Star Trek Concordance in 1976. It subsequently appeared the 1977 comic book, the 1978 fotonovel adaptation, and TOS novel: Strangers from the Sky.
History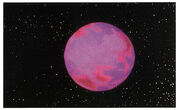 In the 2120s decade, Cochrane disappeared when he was 87 years old, and was brought to the planetoid by The Companion. (TOS episode & Star Trek 7 novelization: Metamorphosis, ST reference: Stellar Cartography)
In 2267, The Companion diverted the Galileo there, so that James T. Kirk, Spock, Leonard McCoy and Nancy Hedford could provided much-needed human companionship for the man. While there, Hedford succumbed to Sakuro's disease, but moments before she died, the Companion merged with her, and the combined entity remained with Cochrane. When the Federation starship USS Enterprise arrived in orbit to retrieve the officers, Kirk promised to keep Cochrane's existence a secret. (TOS episode & Star Trek 7 novelization: Metamorphosis)
Kirk's personal logs of the incident were sealed in the Aldrin City Archives Annex on Luna, intended for historians to read in a century. (ST novel: Federation)
Later that year, when a fleet of experimental hyperwarp ships vanished in the Gamma Canaris region, the Enterprise returned to Gamma Canaris N. Cochrane provided Kirk with warp engine modifications to help in their search, and The Companion opened a nearby doorway to the starless universe where the missing ships were discovered. Cochrane and The Companion returned to Gamma Canaris N shortly afterward. (TOS comic: "A Warp in Space")
In October 2267, during a security breach of the Luna archives, Kirk's personal logs regarding Gamma Canaris N were stolen by Adrik Thorsen. Shortly afterward, Starfleet Command received a distress call from the supposedly dead Hedford addressed to Kirk, alerting him that Cochrane had been kidnapped.
In November 2267, Admiral Quario Kabreigny personally confronted Kirk regarding the omission in his official log. The Enterprise returned to Gamma Canaris N to discover Cochrane's home wrecked, and they left with The Companion to search for Cochrane. Both were eventually reunited, but disappeared into a black hole. (ST novel: Federation)
In 2293, a star chart indicating the position of Gamma Canaris N was displayed aboard the USS Enterprise-A in Kirk's quarters. (TOS movie: The Undiscovered Country)
Faked personnel records of Keiran MacDuff claimed he was born on Gamma Canaris N in 2334. (TNG episode: "Conundrum")
By May 2366, without the gravitational intervention of The Companion, Gamma Canaris N had broken apart into asteroidal debris. When Cochrane and The Companion emerged from the black hole, the USS Enterprise-D recovered them, and Captain Jean-Luc Picard positioned the ship so they could see the constellations they had become so familiar with. (ST novel: Federation)
Residents
Appendices
Connections
Appearances
References
External link