For the 24th century Human teacher, see: Gans.
For the mirror universe counterpart, see Ganz (mirror).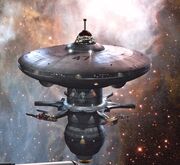 Ganz was a male Orion merchant-prince in the 23rd century.
He owned the vessel Omari-Ekon, from which he ran his numerous businesses endeavors, including trade in narcotics, weaponry, and sex slaves. With the Federation expansion into the Taurus Reach in 2265, he berthed his ship at Starbase 47 in order to take advantage of any new opportunities that may have presented themselves in that region. (VAN novel: Harbinger)
Harbinger author David Mack indicates in his annotations that he used actor Ving Rhames as the model for Ganz's physical appearance.
Community content is available under
CC-BY-SA
unless otherwise noted.