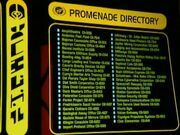 Garak's Clothiers was a tailors' shop operated by Elim Garak on the Promenade of Deep Space 9.
Prior to 2368, the tailor shop had been run by a Bajoran prior to his execution. Skrain Dukat assigned Garak the role of Terok Nor's tailor upon his exile to the station. Garak was at first resistant and spent a great deal of time "preparing" the shop until Dukat threatened to have him working alongside the Bajoran slaves in the mining operations. Garak arranged for Quark to supply him with the necessary equipment and decided to take his punishment as a challenge, determined to become a vital element of Terok Nor. The business developed quickly and Garak was soon charging high prices for his repair work and began to work on his own clothing designs for sale. His first customer was Quark who he designed a suit for in return for referrals, for which Quark got a ten percent commission. (DS9 novel: A Stitch in Time)
In 2371, Garak destroyed his shop in order for Odo to investigate Retaya, a Flaxian who had hired by the Tal Shiar to assassinate Garak. Garak made plans to repair the shop soon after. (DS9 episodes: "Improbable Cause", "The Die is Cast")
After Garak left Deep Space 9 following the Dominion War, the shop remained unoccupied until it was used for an exhibit of art by Tora Ziyal. Garak briefly returned to the station to visit the exhibition in September of 2376. (DS9 - Mission Gamma novels: Twilight, This Gray Spirit, Cathedral, DS9 novel: Unity)
Community content is available under
CC-BY-SA
unless otherwise noted.