Garrison (also spelled Garison) was a Human man who enlisted in Starfleet, serving as a chief petty officer in the mid-23rd century and eventually becoming an officer. In the 2250s decade, he served aboard the Federation starship USS Enterprise under the command of Captain Christopher Pike, and in the 2270s served under James T. Kirk.
Biography
As of the year 2251, Garrison was a communications specialist. In the aftermath of a landing party mission gone awry three months into Pike's five-year mission, Garrison joined the debriefing conference. He also provided rough translations of Orion hails from Karkon's Wing. (TOS novel: The Children of Kings)
In 2254, Garrison served as the ship's communications officer when the Enterprise received a distress call from the SS Columbia, and he was a member of the landing party that visited Talos IV. (TOS episode: "The Cage", TOS episode & Star Trek 4 novelization: The Menagerie, DSC episode: "If Memory Serves")
Later that year, Garison nicknamed José Tyler "The Latin Lover" because of the navigator's tendency toward infatuation; one month later, Tyler ended up seducing Garison's girlfriend.
Garison participated in first contact with the Calligar. Pike introduced Garison to Master Builder Zyo and Alt as part of his command crew. (TOS novel: The Rift)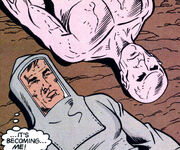 During an investigation on Beta Trilochus, as Garrison and Tyler discussed colonists' recurring nightmares leading to outbreaks of violence, an angry colonist suddenly threw cafeteria furniture at them, walloped Garrison and grabbed his laser. Tyler subdued the man before he could cause further damage. Later, Garrison accompanied Pike and Doctor Phillip Boyce in containment suits, finding Spock near a newly discovered colonizer creature which paralyzed them, then began to duplicate and then kill them. Unable to move, Garrison could tell his duplicate was forming next to him. Spock was able to stun the lifeform and free them, saving their lives. (TOS comic: "To Walk the Night")
By 2255, Pike considered Garrison to be reliable and steady in a crisis. During an engagement with a Klingon ship, Garrison used a universal translator to clean up a transmission regarding reinforcements, confirming the message was not scrambled or an echo. Later, while in combat, a dropped PADD nearly hit him, cracking the monitor above his head. (TOS novel: Child of Two Worlds)
In 2255, Garrison and Nils Pitcairn brought an enormous birthday cake into sickbay on a gurney to celebrate Boyce's birthday. Garrison asked how old Boyce was, but a strange smell emanating from the ventilation grill interrupted the gathering. Later, Garrison and Sellers teased Tyler in the recreation room about rumors that he had hooked up with a princess from Kalajia VII. (TOS novel: Legacy)
In the late 2250s or early 2260s, Garrison served with Doctor Mark Piper and helmsman Lee Kelso. As Pike was giving newly arrived Piper a tour of the ship, Garrison picked up a radio signal from a small spacecraft which turned out to be Cavor's ship, last seen on Earth on 12 April 1901. (TOS - New Visions comic: "The Rhyme of the Ancient Mariner")
By the 2270s, Garrison had become an officer and joined the refit Enterprise crew under the command of Captain James T. Kirk.
On stardate 7489.6, Commander Lieutenant Garrison led a boarding party aboard classified Federation Research outpost S31 in the Lantaru sector, retaking the station from Klingons imbued with cybernetic implants. Garrison reported that the intruders no longer seemed Klingon, and phasers needed to be set on overload to stop them. While Garrison's team secured the station, the Enterprise provided cover fire against incoming Klingon ships. (ST video game: Legacy mission: At the Gates)
Appendices
Background
Images
Connections
Appearances
References
External link