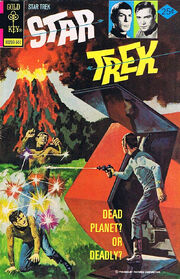 George Kashdan (17 May 1928—3 June 2006) was an editor and writer of comics. Kashdan wrote ten Star Trek stories for Gold Key Comics after becoming known for a long stint at DC Comics from the mid-1940s until 1968.
Born in the Bronx, Kashdan attended the University of Chicago and received a B.A.. He got his comic industry start mostly on smaller titles for DC, including Congo Bill and Green Arrow, and had occasional work on issues of Superman and Batman. Kashdan was promoted to a full editor position when his assignment on Aquaman graduated from a backup feature to its own book, and Kashdan eventually launched Metamorpho and the Teen Titans into their own comics. After leaving DC, Kashdan went to Western Publishing's Gold Key line to write for The Twilight Zone, Flash Gordon, and Star Trek. During this time, he also began a career writing scripts for various animated television productions, which, by the 1980s, would take him on a move to Los Angeles.
Community content is available under
CC-BY-SA
unless otherwise noted.