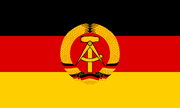 The German Democratic Republic (also known as East Germany) was a socialist state created by the Soviet Union on Earth after World War II. East Germany existed from 1949 until 1990, when it joined the Federal Republic of Germany.
In 1974, Roberta Lincoln and Gary Seven were conducting an operation in the Soviet embassy in East Germany's capital city, East Berlin. While there Lincoln considered a possible encounter with the East German secret police, the Stasi, and was later forced to run from East German border guards. (TOS - The Eugenics Wars novel: The Rise and Fall of Khan Noonien Singh, Volume 1)
Community content is available under
CC-BY-SA
unless otherwise noted.