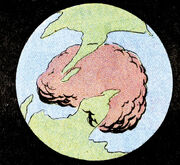 The Giant Brain was a cosmozoan entity which lived within the core of an inhabited, ringed, class M asteroid. It was discovered in the 23rd century.
The brain entity broadcast large amounts of life energy to the indigenous humanoid population on the surface of the asteroid. Its interior volume was stated to be larger than that of four Federation starships.
History
[
]
107,600 years ago, the Giant Brain became afflicted with Akwood's syndrome, a viral infection causing bouts of temporary madness. It transmitted that insanity into the asteroid's inhabitants, causing them sporadically to become insane and burn down their homes.
In 2267, the USS Enterprise encountered the asteroid and discovered the Giant Brain at its core. Geologist Freyer became infected with the virus when he tasted a soil sample. As the virus was considered an alien invader disrupting the natural development of the world, Kirk decided to try to cure the brain. Freyer's infection gave him insight toward locating the infecting viruses, so he accompanied Kirk and McCoy into the Giant Brain. Freyer lured the viruses into one spot, then McCoy sprayed an antidote, curing the Giant Brain of the infection. (TOS comic: "The Brain-Damaged Planet")
Appendices
[
]
Appearance
[
]
Images
[
]