Gideon (or Delta Dorado VII) was a planet located in the space of the galaxy's Beta Quadrant, the seventh planet in orbit of the Delta Dorado star system, at coordinates 3.57S 2.35E; or 54.5, 42.7, -242.9. Gideon, the only class M planet in its system, had a single moon and was the homeworld of the Gideonite civilization. The planet is ruled by the Gideon Council, which is led by a prime minister. (TOS episode & Star Trek 6 novelization: The Mark of Gideon; ST references: Star Trek Maps, The Worlds of the Federation, Star Charts; FASA RPG module: The Federation)
In the 23rd century, Federation representatives constantly sought to send ambassadors to Gideon in order to get it into the Federation. In the year 2268, the Gideons finally gave in and allowed representatives to come to their planet. Prior to these representatives arriving, the Gideons submitted reports that made their planet seem like a paradise because the planet was germ-free and the inhabitants had expanded their life spans. These factors had actually caused massive overpopulation on Gideon.
When the USS Enterprise finally arrived, the Gideons only allowed one person, James T. Kirk, to beam down to the planet. The Gideons then set about deceiving Kirk so they could get the Vegan choriomeningitis, for which Kirk was a carrier, and introduce it to their planet. (TOS episode & Star Trek 6 novelization: The Mark of Gideon)
Later, Kirk would recall the deception on Gideon and wonder if his visit to the UNSS Lewis and Clark was a similar deception. (TOS novel: The Rings of Time)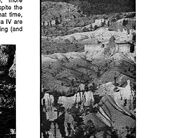 Gideon had a total surface area of 611,000,000 square kilometers and, with 95% land mass and 5% of the surface covered by water oceans, a total land area of 580,450,000 square kilometers. Gideon has a gravity of 1.12g, a diameter of 15,900 kilometers and an equatorial circumference of 47,500 kilometers. About 12% of Gideon's makeup is usable metals, with 10% of the planet made up of crystal deposits, 12% radioactive elements, and the planet has trace deposits of gemstones and other special minerals. Gideon has a warm temperate climate, a thick class M terrestrial atmosphere and a day's length of 31 hours.
During the planet's population reduction, the world had a technological/sociopolitical index of 499785-87 and a nonexistent planetary trade profile.
By reference stardate 2/2306.01, the world had a population of over 12 billion individuals, after 14 years of disease killed over 6 billion. (FASA RPG module: The Federation)
The depopulation would continue until 96% of the inhabitants had died. (ST reference: The Worlds of the Federation)
By 2378, Gideon's government was a member of the United Federation of Planets. (ST reference: Star Charts)
Community content is available under
CC-BY-SA
unless otherwise noted.