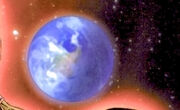 Gilgo Beach is an Atlantic Ocean coastal region located in Babylon in New York on the planet Earth's North American continent.
In the year 2354, Benjamin Sisko met his future wife Jennifer on Gilgo Beach. (DS9 episode: "Emissary", DS9 - Millennium novel: Inferno)
Curzon Dax suggested to Sisko that he propose to Jennifer on Gilgo Beach, although Sisko decided to propose on Luna. (DS9 comic: "The Looking Glass War")
Community content is available under
CC-BY-SA
unless otherwise noted.