---
Spoiler warning:
Plot and/or ending details follow: The following content contains spoilers!
---
MAJOR SPOILERS
WARNING! This article contains MAJOR spoilers for the recently released episode Su'Kal. Caution is advised.
For other uses, see Glenn.
The Glenn class was a 25th century Federation starship class, a legendary temporal operative science vessel and variant subclass of the 23rd century Crossfield-class science vessel, in Starfleet service from the 2410s decade. (STO website: Legendary Temporal Operative Science Vessel, STO - Legacy mission: "Welcome to Earth Spacedock")
The class was conceived when the Advanced Starship Design Bureau (ASDB) recovered the 150-year abandoned Yard 39 and its Crossfield-class technology. (STO website: The Stats of the Europa Class!)
Service history and specifications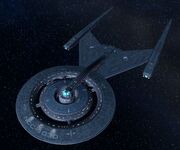 The Crossfield-class USS Glenn was active in the 2250s decade. It was one of two science vessels equipped with the experimental spore drive, co-developed by astromycologists Justin Straal and Paul Stamets. Six months after the Battle of the Binary Stars on 11 May 2256, the Glenn was lost after a Klingon attack. (DSC episode: "Context Is for Kings", STO - Age of Discovery mission: "Secrets")
150 years later, in 2410, Ensign Elyos and Lieutenant Whetu of the Utopia Planitia Fleet Yards discussed the recovery of Yard 39 and several hulks of Starfleet ships hastily abandoned there when the star TL-9139 erupted and flooded its system with baryon radiation in 2259. With the radiation suddenly diminishing, Starfleet was able to recover Yard 39 and its assets. (STO - Age of Discovery short story: "Utopia Planetia: The Mystery of Yard 39")
Around the same time, Starfleet learned of the 2256-era ISS Crossfield, prototype of the Terran Empire's Crossfield-class destroyer. (STO - Mirror of Discovery short story: "From the Desk of Starfleet Intelligence")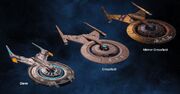 The Glenn, and the relaunched and refitted Crossfield-class, shared the same capabilities and could exchange hull components between them, which mandated they keep a similar size. (STO - Klingon War mission: "Welcome to Earth Spacedock") The Crossfield-class was 750 meters long. (DSC Issue 02: "USS Discovery") Both classes were equipped with an experimental spore drive, a weaponized helical torsion console, and could execute the Lorca maneuver. As temporal operative science vessels, the ships combined timeship systems with regular science vessel abilities.
The prototype USS Glenn was launched in 2411 alongside a refitted USS Discovery replica and the ISS Crossfield. (STO website: Legendary Temporal Operative Science Vessel, STO - Legacy mission: "Welcome to Earth Spacedock")
Unlike the 23rd century Crossfield-class, the Glenn lacked spokes between the inner and outer ring of its saucer section. The neck connecting primary hull with secondary hull was widened. (STO - Legacy mission: "Welcome to Earth Spacedock")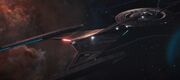 In the year 3189, these features were carried over when the time-displaced Crossfield-class USS Discovery received a structural refit at Federation Headquarters to catch up with the technical standards of the 32nd century. (DSC episode: "Scavengers")
Livery
In the 25th century, the design of the Glenn-class legendary temporal operative science vessel allowed its commanding officer to choose from different designs of hull materials, which could be modified further at shipyards. (STO - The Klingon War mission: "Welcome to Earth Spacedock")
Furthermore, the installation of deflector shields from specific factions modified the hull appearance, including shields from the Reman Resistance, the Breen Confederacy and the Dominion. (STO missions: "Coliseum", "Cold Storage", "Boldly They Rode")
Known vessels
Appendices
Connections
References
External links