For other uses, see Guardian.
The Guardian-class was a type of cruiser deployed by the Federation Starfleet in the early 25th century. (STO website: Dev Blogs; STO video game: Delta Rising)
The Guardian-class entered service in 2410. (STO video game: Delta Rising)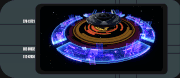 Like the Phantom-, Eclipse-, Scryer-, and Dauntless-classes, the Guardian-class featured special accomodations for an intelligence officer. In addition to normal defenses it featured a particle conversion matrix device, capable of absorbing incoming weapons fire and diverting the energy to its own weapons. (STO website: Tier 6 Starships - Guardian Cruiser)
In the 25th century, the design of the Guardian-class intel starship/guardian cruiser allowed its commanding officer to choose from different designs of livery, which could be modified further at starbases. These options were designated Guardian Type 1 and Type 2, with each having the additional option Type 1-7, Upgrade and Veteran. (STO - The Klingon War mission: "Welcome to Earth Spacedock")
Furthermore, the installation of deflector shields from specific factions modified the hull appearance, including shields from the Reman Resistance, the Breen Confederacy and the Dominion. (STO missions: "Coliseum", "Cold Storage", "Boldly They Rode")
Community content is available under
CC-BY-SA
unless otherwise noted.