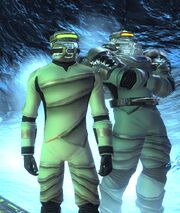 A H'ren was the most junior military rank within the Breen Confederacy's forces and was the rough equivalent of an ensign. H'rens served as common troopers but also included specialists in their ranks. Their uniform closely resembled the armors worn by Breen officers during the Dominion War. H'rens were armed with polaron sniper rifles or polaron pistols. (STO mission: "Destiny"; DS9 episode: "Strange Bedfellows")
Specializations
Edit
H'rens were the lowliest rank but allowed Breen officers for specialization. H'ren sentries were the personal guards of thots and were able to replicate cryo mortars during combat. Common h'ren and h'ren sentries were visually indistinguishable. Their visors were green.
H'rens medics were specialized in medicine, while h'ren bio-engineers specialized in engineering. Both were able to fabricate medical generators during combat. They also wore the same type of armor and carried, unlike common h'ren, shoulder pads and an armored module on their back. The visor of medics and bio-engineers was blue. (STO mission: "Destiny")
In 2409, h'rens were among Thot Mer's troops boarding the IKS Batlh, the personal ship of Klingon Emperor Kahless. They were routed by the KDF. (STO mission: "Destiny")
In the same year, h'rens were the common soldiers the Confederacy fielded against the Deferi and the Federation and Klingon allies during the Breen Invasion led by Thot Trel. They participated in ground engagements on Defera, Zaria, Raveh II and Lae'nas III. (STO missions: "Cold Call", "Out in the Cold", "Cold Comfort", "Cold Case", "Cold Storage")
Among officers unhappy with Trel's leadership was H'ren Medic Tran, who sought asylum after he was captured on a Deferi freighter. (STO mission: "Cold Comfort")
Starfleet, the KDF and the Romulan Republican Force also encountered h'rens during Breen assaults on Federation colonies. (STO mission: "Colony Invasion")
Comparison
Edit
External link
Edit
Community content is available under
CC-BY-SA
unless otherwise noted.