For the primary universe counterpart, see USS Enterprise (NCC-1701).
In an alternate timeline without the Federation and where Human women held slaves, the HMS Enterprise (NCC-1701) was an Earth starship, a Constitution-class heavy cruiser in British Empire service in the 2260s decade. The ship's commanding officer was a sadistic Captain Nyota Uhura. (TOS - New Visions comic: "The Mirror, Cracked")
Service history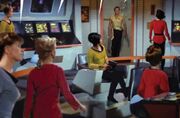 Between 1705 and 1986, twelve ships named either HMS Enterprise or HMS Enterprize had served the British Empire in the primary universe. (The Official Starships Collection Issue 124: "S.S. Emmette")
At some point before stardate 4295.2, Captain Uhura had her lover James T. Kirk skinned alive. Rizzo and Beggs Hansen saw Kirk die.
On stardate 4295.2, in the year 2267, Captain Spock of the ISS Enterprise ensured that his rival, former captain James T. Kirk would not return to the mirror universe in the escape from the primary universe. Kirk ended up beaming himself onto the HMS Enterprise. He was found in the corridors by Hansen and Rizzo. Knowing the security cameras observed them, Rizzo reported the discovery immediately to the bridge. When escorted there, Uhura was surprised to see Kirk alive, and wondered how many women would get to see their lover skinned alive twice. (TOS - New Visions comic: "The Mirror, Cracked")
Personnel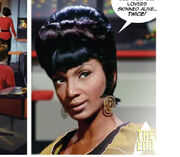 Appendices
Connections