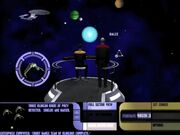 Halee was a star with an associated system, located somewhere in the space of the galaxy's Alpha or Beta Quadrants.
Halee was a main sequence G-type star in Klingon Empire territory, and was known to have a planetary system that included at least one world with a savage and deadly environment. (TNG episode: "Heart of Glory")
In the year 2371 the rebel Duras faction had built a secret spaceport in the system. (TNG video game: Generations)
Community content is available under
CC-BY-SA
unless otherwise noted.