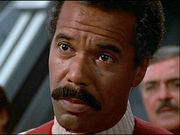 Harrison Morrow was a human male in Starfleet in the 23rd century. As of 2284 he was Chief of Starfleet Command. (TOS movie: Star Trek III: The Search for Spock).
It was Morrow who sponsored James T. Kirk for his captaincy and was pressuring him into applying to the admiralty following the completion of his first five-year mission as captain of the Federation starship Enterprise. (TOS novel: The Lost Years)
Morrow oversaw the Transwarp Project for Starfleet. (DS9 short story: "Infinity")
By 2286, Morrow had been replaced by Admiral Cartwright. (TOS movie: Star Trek IV: The Voyage Home)
External Links
Harry Morrow article at Memory Alpha, the canon Star Trek wiki.