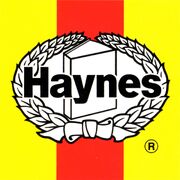 Haynes Owner's Workshop Manuals, or Haynes Manuals, are a series of general interest technical manuals that debuted in 1960 from British publisher Haynes Publishing. In 2010 and 2012, the company produced two in-universe Star Trek manuals for Gallery Books, one covering the various starships Enterprise and the other devoted to the Klingon bird-of-prey. Haynes released associated merchandise such as 1,000-piece jigsaw puzzles, T-shirts and greeting cards that reused images from the books.
Space-related Haynes Manuals have focused on NASA's Astronauts, Project Gemini, the Apollo program, Apollo 11, Apollo 13, Saturn V rocket, Soyuz, Skylab, space shuttle, International Space Station, Voyager 1, Voyager 2, Hubble Space Telescope, Mars, nuclear weapons and the Milky Way Galaxy.
Regarding aircraft that have appeared in Star Trek, Haynes Manuals have been published about the Avro Lancaster, B-29 Superfortress, F-16 Fighting Falcon, Fockewulfe Fu-190, P-51 Mustang, Sopwith Camel, Supermarine Spitfire, and Vickers Wellington.
Volumes
Appendices
Images
Connections
External links